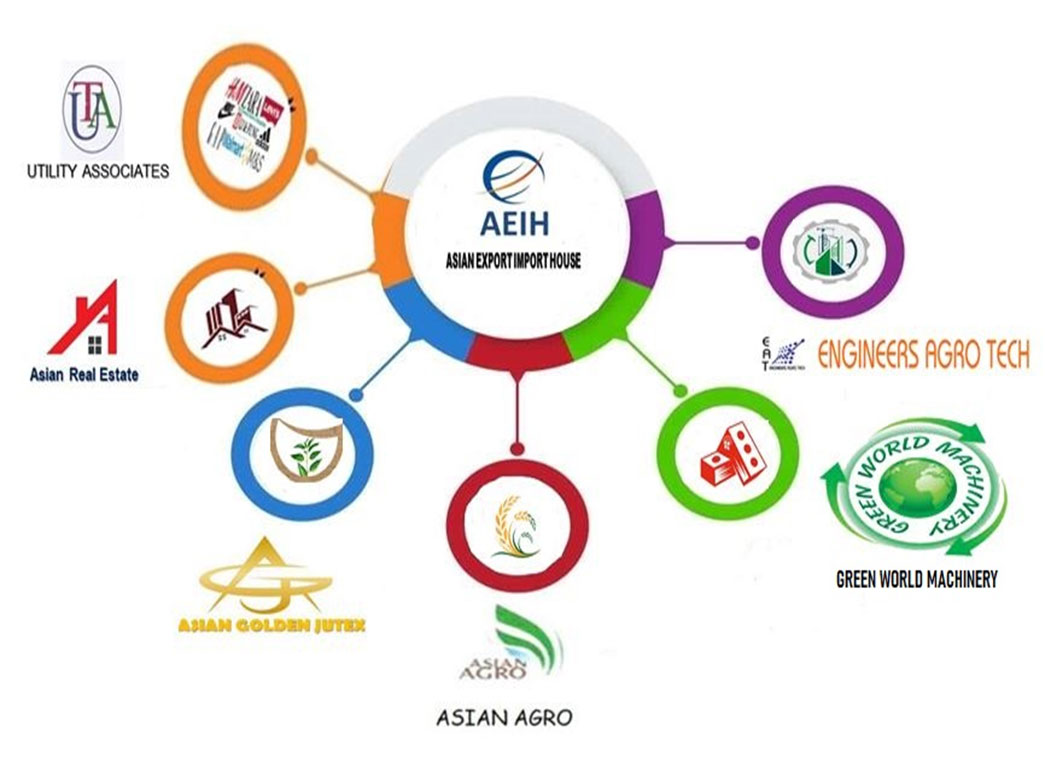 OUR COMPANY INTRODUCING LETTER
Asian Export Import House (AEIH) for a USA Base Export company established in 1999, in Bangladesh. We are one of the leading companies in the Export industry. Jointly work completed Gorai River Re-Excavation Project (GRC) with Balast Ham Netherlands, Boskalis international Netherlands & Dredging International, Belgium, van Oord acz, Netherland. We have lot of experience export Garments item in USA, Italy, Germany & Sweden. Also we have marking cannel many countries & sales destitution network. We are also dealing with distribution of world reputed Sataki Corporation, Japan since 2015.Succesfully completed Power plant project work with KEC international limited, and India.
Industrial machinery business with Anhui Techs-top import and export trading Co, Ltd,-China. Industrial machinery business with HSF Food Pro-tech Pvt. Ltd-India. Real Estate Business with Homestarr Realty, USA & more.
We have at present 200 qualified Engineers and Technicians out of which most are trained in the USA,UK, Japan, India, Indonesia, Italy, Singapore, Thailand, China and Germany.
It is one of the most successful companies of rapidly expanding national and international Trade and Industry. It is synonymous with innovation, trust and quality. Our company has lot of experience readymade garments export all over the world.
A wide range of Asian Export Import House includes leather, jute, Tea, Garments, Vegetable, Fish, PP woven Bags, Plastic recycling, information and communication technologies. Asian Export Import House is well positioned to capitalize on strong growth across industries in both the domestic and global markets. Each Asian Export Import House division is managed by an independent, professional team with significant depth of experience. Management teams have established a clear strategic plan that will further strengthen the overall platform.
Our Mission
Our Mission: Our prime mission is to acquire market place and diversify our business into many concerns. Hence to meet the Market needs and build a competitive position as efficient and profitable by establishing a unique position in the competitive market of Bangladesh through best service..
Our Vision
To be the most trusted and respected professional services firm recognized by our clients for delivering excellence.
Social contribution Activity
Annual Turnover
USD 960 million
Bank Account
Standard Chartered, City Bank, Janata Bank, Sonali Bank Ltd.
Key Person
Engr.Shohel Ahamed – Managing Director
AEIH-SISTER CONCERN COMPANIES
ASIAN AGRO
UTILITY ASSOCIATES
ASIAN GOLDEN JUTEX
REAL ESTATE
THE MEMBER OF BUSINESS ASSOCIATION
(1) Dhaka Chamber of Commerce & Industry (DCCI)
(2) Bangladesh Garment Manufactures and Exporters Association (BGMEA)
(3) Bangladesh Jutes Goods Exporters Association (BJGEA)
(4) Bangladesh Tanners Association (BAT)
(5) Japan-Bangladesh Chamber of Commerce and Industry (JBCCI)
Alamgir Tower,
Ailchara Bazar poradha
kushtia
Ettihad Plastic Bag Ind Ltd
Indoil, Santahar
Naogaon
D- 6, 7
Basic Shilpo Nogori
Rajbari
Facility and advantage which is impress JV partner
Bangladesh Govt. allows duty free import of capital machinery export of finished product in the all market for joint venture.

Bangladesh govt. arranges factory land and standard factory ready building at Economic zone for foreign investment at minimum cost of land.

Foreigner investor can raise bank loan or equality share capital from stock exchange capital of Bangladesh market like as Bangladeshi home company.

Bangladesh govt. arranges marketing business visa, resident permit and working visa for foreigner citizen without any kind of hassle.

Private land can be purchased from private land load.
Key advantage especially JV
It is well known Bangladesh is resourced of cheapest labor force.

We create industrial entrepreneurs. It can be said that creating industrial entrepreneurs is our regular profession. We are highly expert & specialist of Marking, Feasibility study, Banking, Commissioning, Drawing design turnkey project agro & others industries sector in Bangladesh with good reputation.

Bangladesh government allowed 100% ownership on join venture for foreigner investor.
We make sure that our supplier can meet our requirements when it comes to reaching the average number of pieces produced as per buyer's requirement at a given period of time to meet schedule.
Joint venture (JV) Activities
1. Jointly worked which it completed Real Estate project with India VS Bangladesh
A. Power plant project contraction of BD Power , Project location Bola , Borisal

B. Biswas Builders contraction project, Project location Agargaon, Dhaka.
2. HOMESTARR REALTY (Philadelphia, USA, https://homestarrinc.com )Joint venture partnership business of Real Estate in USA VS Bangladesh
3. Jointly work completed GORAI RIVER RE-EXCAVATION PROJECT (GRC) project with Ham Netherlands, Boskalis international Netherlands & Dredging International Belgium, Dredging company Vnord Netherland
4. Jointly work completed full auto rice mill project with Germany & Japan:
A. SCHULE (Hamburg, Germany, www.schulefood.de) VS Biswas auto rice mill -Kushtia, Khulna, Bangladesh.

B. Satake Corporation (Hiroshima-Ken,Japan, Website: http://www.satake-group.com) VS Shiraj Agro (Alamdanga Chuadanga, Khulna, Bangladesh)
Our overseas Business partner
Anhui Techs-top import and export trading Co. Ltd.
404 bldg.7, Lot D, Zhonghuan City, no.66, Yonzhen Rd. Economic and Technological Development Zone, Hefei, Anhuni-230000, China
HSF Food Pro-tech Pvt. Ltd
Opp. Air Force Station, Dobwali Road, SIRSA-125055(Haryana), India
List of our Completed Project